Please join us in wishing a fond farewell and happy retirement to Sarah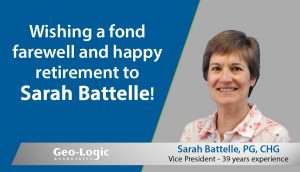 Battelle. Sarah joined GLA in October of 1994, and her contributions to the company have been immeasurable.  Throughout her career, she managed the company's office in San Diego, California and helped the company win and maintain numerous contracts with the City of San Diego, the County of Imperial, the County of San Bernardino, Republic Services, and Gregory Canyon, Ltd, accounting for millions of dollars in revenue.  As manager of the San Diego office, she fostered strong comradery among the staff.  For those of us who worked with her daily, we appreciated Sarah's technical expertise, strong work ethic, professionalism, friendliness, and ability to handle the most challenging clients.  Sarah served on GLA's Board of Directors for many years, and in this capacity, she was instrumental in improving employee benefits, reviewing insurance packages, supporting business acquisitions, and approving property purchases.
We hope that you will join the GLA management team and reach out to congratulate Sarah on completing a remarkable career that has contributed so much to the success of this company.