GLA and its wholly owned subsidiaries, including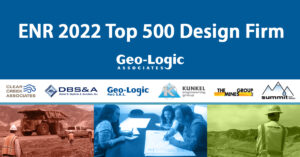 Clear Creek Associates, Daniel B. Stephens & Associates, Kunkel Engineering Group, Geo-Logic Peru, Summit Water Resources, and The MINES Group, was ranked among the Engineering News-Record (ENR) Top 500 Design Firms (#253), in addition to the Top Design Firms in the Southwest Region (#22). Companies listed do engineering nationally and internationally, and are ranked according to 2021 revenue. GLA is an employee-owned, multidisciplinary environmental, civil and geotechnical engineering consulting firm with more than 250 professionals in 26 offices in the U.S. and abroad. Together, we provide multidisciplinary geologic, engineering, water, and environmental consulting for landfills, mines, contaminated sites, municipal projects, natural resources, and water resources.
Click here to learn more about GLA and the other affiliates.