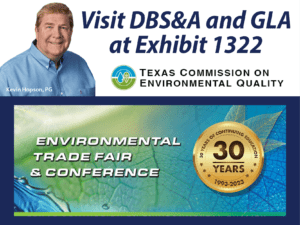 Meet scientists, geologists, engineers, and hydrogeologists from GLA and Daniel B. Stephens & Associates, Inc. (DBS&A) at exhibit #1322 at the 2023 Texas Commission on Environmental Quality Environmental Trade Fair and Conference (TCEQ ETFC) on May 16-17, in Austin, Texas. GLA's President and DBS&A Principal Hydrogeologist, Dr. Nicole Sweetland, PG, and Solid Waste Market Leader Doug Junk; DBS&A Vice Presidents, Kevin Hopson, PG and Gundar Peterson, PE; DBS&A Geologists Paul Kirby, PG, Kathy Vail, PG, PG; Engineer Thomas Golden, PE; and Lubbock Operations Manager, Todd Seebaum, CAPM, will be there to meet with you and discuss solutions to the environmental and water resource issues in Texas.
For more information on GLA's environmental services, click here.
For more information on GLA's solid waste services capabilities, click here.
TCEQ staff leads 100 classes on air and water permitting, oil and gas, industrial and solid waste management, compliance and enforcement, and remediation programs, over the two-day conference. For more information about the TCEQ ETFC, click here.